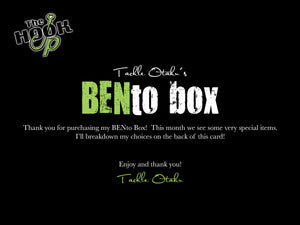 Tackle Otaku - "Welcome to my monthly BENto Box!  I have always thought it would be fun to create a subscription box that actually had cool baits in it that a real fisherman would love instead of just a bargain bait dump.  Each month I work with different brands to hand curate the BENto Box into a collection of JDM items that I recommend and love using, and also some colors that I've always loved or wanted that will be exclusive to the box!"
Each BENto Box includes:
1 special color Megabass Ito Vision 110
1 special color Megabass PopMax
A collection of other JDM items hand curated by me!
Each box sells for $105 and has $100 retail value.
Invoices will be sent the 28th of the month for Bentos to ship after the 15th the end of the following month.
** WARNING: This product can expose you to chemicals including lead, which are known to the State of California to cause cancer and birth defects or other reproductive harm. **