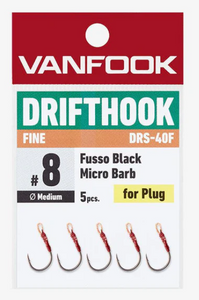 Special assist hook to enjoy streaming in the small fields such as headstream, brook and little stream covered by tree branches and leaves.
We designed this minnow hook with looped eye assist originally despite this kind of hook has usually created with sharing from live bait hooks in general.
Designed to be original forming after selected the best wire material for lure fishing.
It can catch even tiny follow up bite or unexpected bites like banging by means of this DRS-40F has focused on to have excellent hooking performance by the special forming for it.
Recommended minnow size with this hook is 50mm mainly, but it can fish with less than 40mm due to it has very small looped eye.
You can enjoy streaming game by this model everywhere even if fish feels human sign.
5 per Pack
** WARNING: This product can expose you to chemicals including lead, which are known to the State of California to cause cancer and birth defects or other reproductive harm. **