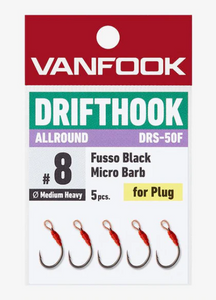 missing strikes in every field from brook to main river.
We designed this minnow hook with looped eye assist originally despite this kind of hook has usually created with sharing from live bait hooks in general.
Focusing on to have durability and accurate holding performance, this can target for large pieces such as the fish over 1 feet in little stream or large one in main river.
This can endure against even strong loading power such as the strike when using hard tackle or the rolling actions by large pieces, also can catch the target accuracy by superior holding performance.
5 per Pack
** WARNING: This product can expose you to chemicals including lead, which are known to the State of California to cause cancer and birth defects or other reproductive harm. **