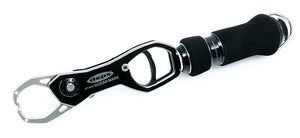 The Deps Huge Fishgrip HC2820  is a single-sided stainless steel grip, which has a high holding power due to the hyper one-way cam mechanism, is a trigger type that can be easily operated with one finger, and can be quickly hung on the fish's mouth and landed by rotating the main body and grip, the caught fish will heal even if it suddenly goes wild, and it will prevent the mouth from breaking. The tapered silhouette with a slip-out prevention design is an EVA handle with a diameter of 34 mm that is easy to grip and apply force. Capable of w
eight measurement up to 20 kg. 
Lines and drag checker scales are marked in easy to read print. 
Drag setting is possible by adjusting the number of PE line to be used to the scale. 
1/4 and 1/7 markings are used to match the fishing style.
** WARNING: This product can expose you to chemicals including lead, which are known to the State of California to cause cancer and birth defects or other reproductive harm. **