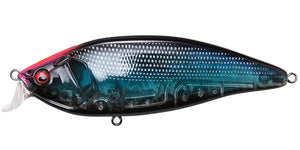 The spectacular performance of the large flat body with a total length of 150 mm should be easy to imagine for experienced anglers. Designed with a body size and silhouette that is closer to the actual Baitfish, the Konosirus Shad approaches with an overwhelming impact in front of fish that do not react to small sized offerings.
The crank building with a reduced front projection area can retrieve a large body with less winding resistance. The high specific gravity weight with a low center of gravity placed on the abdomen creates overwhelming castability by moving a weight of 20 g or more to the rear end of the body during casting.
At the time of swimming, it immediately generates positioning with a low center of gravity arrangement, vivid roll and flushing, and it is located around the Konoshiro group and in the lower layer and strongly appeals to fish eaters who ask for predation chances. Please experience the amazing power of Konosirus Shad against the selective big fish that eats big bait!
Length | 150mm
Weight | 70 grams
** WARNING: This product can expose you to chemicals including lead, which are known to the State of California to cause cancer and birth defects or other reproductive harm. **