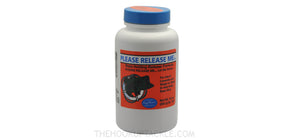 With superior dissolving capabilities, improved calming effects and an overwhelming ability to remove both heavy metals and pesticides (both of which can be especially harmful in coves or canals), PLESE RELEASE ME is the choice of champions. Use PLEASE RELEASE ME in both livewells and weigh-in tanks as both a conservation measure and to assure that tournament points are not lost due to dead bass. Technically, PLEASE RELEASE ME will:
Calm your hard caught tournament catch

 

so that injury in the livewell is reduced.

Reduce losses

 

from stress by the all important addition of electrolytes back into the bass.
Helps bass from regurgitating stomach contents which

 

helps stop weight loss.

Immediately

 

removes any harmful chlorine

 

which may be present from melting ice.

Helps heal both hook and net wounds.

Replaces the all important natural slime coat of the bass.
 

Sure-Life

 

Size:

 Please Release Me

 10 oz
** WARNING: This product can expose you to chemicals including lead, which are known to the State of California to cause cancer and birth defects or other reproductive harm. **