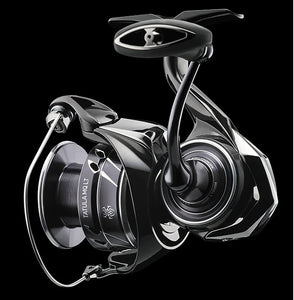 Behold the new standard in spinning reels, DAIWA's brilliantly-designed Tatula MQ LT. The new Tatula MQ LT embodies a rich features set, which starts with its one-piece MONOCOQUE ZAION V body. This design framework yields more space for larger gears, thus promoting increased torque and power from the get-go.
Zaion V body construction with DAIWA's original MONOCOQUE (MQ) body concept supports a machine-cut TOUGH DIGIGEAR to provide unmatched crank power and extra strength to the drive gear.
Designed to allow anglers to control fish under any conditions and a smooth and effortless retrieve.
Equipped with a new AIRDRIVE ROTOR to provide rotation with low inertia and extra strength, the reel is equipped with the latest advanced technology and specifications.
| MODEL | BB RB BRGS | GEAR RATIO | MONO LINE CAPACITY (LB. TEST/YARDS) | DRAG MAX |
| --- | --- | --- | --- | --- |
| TTUMQLT1000D-H | 8BB+1 | 5.8 | 4/250, 6/160 | 11.0 |
| TTUMQLT2000D-H | 8BB+1 | 5.8 | 4/340, 6/220 | 11.0 |
| TTUMQLT2500D-XH | 8BB+1 | 6.2 | 8/240, 10/210 | 22.0 |
| TTUMQLT3000-CXH | 68BB+1 | 6.2 | 8/160, 10/130 | 22.0 |
| TTUMQLT3000D-CXH | 8BB+1 | 6.2 | 10/280, 12/220 | 22.0 |
| TTUMQLT4000-CXH | 8BB+1 | 6.2 | 10/210, 12/160 | 26.4 |
** WARNING: This product can expose you to chemicals including lead, which are known to the State of California to cause cancer and birth defects or other reproductive harm. **